Twelve-year-old Dora Pomeroy and her three younger sis­ters, Phoebe, Lil­lian, and lit­tle Tess, find them­selves in Chica­go when their father gets a job with Buf­fa­lo Bill's Wild West Show. But no women are allowed there so their moth­er and the girls are on their own. But things are not good. Father is gam­bling his mon­ey away and moth­er goes from job to job—including one as a hootchie-kootchie dancer. The girls must find work of their own and fig­ure out for them­selves how they are going to func­tion in the city.
"… shows the glam­our and grit­ti­ness of the World's Colom­bian Expo­si­tion in Chica­go. The char­ac­ters are stock, but the sit­u­a­tion is not. Lawlor weave[s] some social issues into the sto­ry, and the sis­ters' resent­ments about not being in a tra­di­tion­al fam­i­ly and hav­ing to fend for them­selves will ring true for many of today's read­ers." (Book­list)
"The girls' par­ents … seem­ing­ly irre­spon­si­ble … [and] the sib­lings are left to fend for them­selves on the crowd­ed and poten­tial­ly dan­ger­ous fair­grounds. … the descrip­tions and details of the set­ting and activ­i­ties are real­is­tic and fas­ci­nat­ing." (School Library Jour­nal)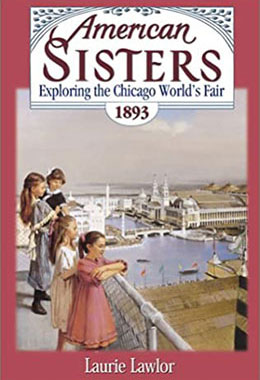 Amer­i­can Sis­ters series, Book 7
writ­ten by Lau­rie Lawlor
Simon & Schuster/Minstrel Books, 2001
Please look for this book at
your favorite pub­lic library
or used bookseller.