The most pop­u­lar third grad­er at Lin­coln School is cer­tain­ly NOT Ernest Clark. He is small? His moth­er gives him weird hair­cuts? He has no friends. Then Jomo Mug­wana arrives from Kenya. Jomo does not speak Eng­lish but he likes Ernest and after a few months the two become friends. The school has a bal­loon send. Each stu­dent attach­es a card, with their name and address, onto their bal­loon and on one day the bal­loons are sent off. When Ernest finds out how far his bal­loon trav­els he wor­ries about his class­mates taunt­ing and how he will ever sur­vive third grade.
1991 KC3 Read­ing Award, Greater Kansas City Asso­ci­a­tion of School Librarians
"Although there's no offi­cial doc­u­ment to the effect, Ernest is unques­tion­ably the class out­cast. … It's the peer dynam­ics, the lone­ly pro­tag­o­nist, and the nat­ur­al easy-to-read style that works well here." (Bul­letin for the Cen­ter of Chil­dren's Books, rec­om­mend­ed)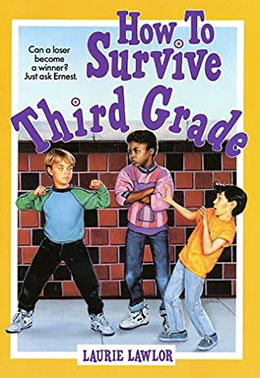 writ­ten by Lau­rie Lawlor
illus­trat­ed by Joyce Audy Zarins
Albert Whit­man, 1988
Please look for this book at
your favorite pub­lic library
or used bookseller.