An American Adventurer on Captain James Cook's Final Expedition
In 1776 when Cap­tain James Cook set off on his third and final voy­age, a crew of intre­pid men sailed with him, includ­ing twen­ty-five-year-old Amer­i­can John Ledyard.
This riv­et­ing account based on Led­yard's writ­ings brings the dra­mat­ic events of that his­toric voy­age to life: the dis­cov­ery of the Hawai­ian Islands by Euro­peans, the attempts to find the North­west Pas­sage along the treach­er­ous Alaskan coast, the pre­car­i­ous­ness of life at sea in bro­ken-down ships, and the errat­ic behav­ior of Cap­tain Cook. After the expe­di­tion nei­ther Led­yard nor the course of his­to­ry would ever be the same.
His­tor­i­cal draw­ings, maps, a chronol­o­gy, biogra­phies, source notes, and an index are included.
New York Library Books for the Teen Age, 2003
"… main­ly from the point of view of John Led­yard's par­tic­u­lar cir­cum­stances and dis­tinct per­son­al­i­ty add an intrigu­ing per­spec­tive to the already inter­est­ing sto­ry of Cook's last jour­ney." (School Library Jour­nal)
"The nar­ra­tive, which is sprin­kled with maps and con­tem­po­rary prints, is capped with bio­graph­i­cal sketch­es of fea­tured crew­mate … engross­ing." (Book­list)
"… a grip­ping, deft­ly blend­ed biog­ra­phy of two inter­sect­ing lives and the impact the Res­o­lu­tion­s's mis­sion had on the indige­nous peo­ples they encoun­tered." (The Bul­letin of the Cen­ter for Chil­dren's Books)
"Ample sup­port­ing mate­r­i­al, includ­ing fas­ci­nat­ing illus­tra­tions and maps." (The New York Times)
"[This text] pow­er­ful­ly and evoca­tive­ly puts read­ers on deck as the expe­di­tion lan­guish­es in the trop­ics, … The text is pep­pered with excerpts from Cook's jour­nals, as well as those of oth­er sailors and ret­ro­spec­tive accounts by Led­yard and oth­ers (all ren­dered with 19th-cen­tu­ry gram­mar and spelling intact), and hand­some­ly illus­trat­ed with archival mate­ri­als." (Kirkus Reviews)
"Based on the ship­board jour­nals of John Led­yard, just 25 when he joined Capt. James Cook's crew to dis­cov­er the North­west Pas­sage in 1776, Lau­rie Lawlor's Mag­nif­i­cent Voy­age: An Amer­i­can Adven­tur­er on Cap­tain James Cook's Final Expe­di­tion is thor­ough and engag­ing." (Pub­lish­ers Week­ly)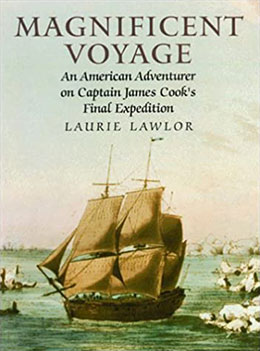 writ­ten by Lau­rie Lawlor
Hol­i­day House, 2002
Please look for this book at
your favorite pub­lic library
or used bookseller.