Muddy as a Duck Puddle and Other American Similes
This col­lec­tion of sim­i­les from A to Z is as zany as a chig­ger chased around a stump. It includes rib-tick­ling folk expres­sions from Amer­i­cans of all walks of life and all parts of the coun­try in a boda­cious trib­ute to both our coun­try's diver­si­ty and pio­neer her­itage. There is a fun­ny sim­i­le and uproar­i­ous illus­tra­tion for each let­ter of the alpha­bet. Read­ers who are as curi­ous as cats will enjoy the fas­ci­nat­ing author's note that explores the ori­gins of the expres­sions. A bib­li­og­ra­phy is included.
"Sly and irrev­er­ent, the folk say­ings col­lect­ed here, one for each let­ter of the alpha­bet, stretch back over his­to­ry and reflect Amer­i­cans' rest­less­ness as they pushed away from being part of an Eng­lish colony and rel­ished being "inde­pen­dent as a hog on ice." For each let­ter, big, clear, bright­ly col­ored car­toons show the lit­er­al mean­ing in the imagery expressed in phras­es such as "crooked as a bar­rel of snakes," as well as the words' sly dou­ble mean­ings (those snakes are con­fronting a cow­boy bank rob­ber). With the wry cel­e­bra­tion of inde­pen­dence and rebel­lion, kids will rel­ish the bois­ter­ous insults and ornery fron­tier ref­er­ences in both the words and pic­tures, while the final spa­cious sec­tion with detailed notes on each sim­i­le and its ori­gin will be great fun for old­er read­ers." (Book­list)
"Lawlor has col­lect­ed 26 "prover­bial comparisons"—one for each let­ter of the alphabet—that are unique­ly Amer­i­can. Some may be familiar—"Jittery as a long-tailed cat in a room full of rock­ing chairs"—and oth­ers per­haps more obscure—"Zany as a chig­ger chased around a stump." Long's dig­i­tal­ly ren­dered car­toon illus­tra­tions fea­ture bright, flat col­ors and help to explain the sim­i­les while adding sig­nif­i­cant­ly to the humor. Back mat­ter includes detailed notes that pro­vide the place of ori­gin and a clear break­down of the mean­ing. Use­ful as an intro­duc­tion to col­or­ful lan­guage, the book could also serve as a pre­am­ble to a unit on the Amer­i­can tall tale and its propen­si­ty to exag­ger­ate." (School Library Jour­nal)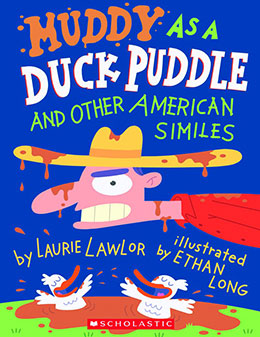 writ­ten by Lau­rie Lawlor
illus­trat­ed by Ethan Long
Hol­i­day House, 2010
Please look for this book at
your favorite pub­lic library
or used bookseller.