How a Small Trail Can Make a Big Difference
Restor­ing Prairie, Woods, and Pond: How a Small Trail Can Make a Big Dif­fer­ence is about activism at the com­mu­ni­ty level—and tells how a small vil­lage in south­east­ern Wis­con­sin has trans­formed an eight-acre, munic­i­pal­ly owned dump­ing ground and waste­land into a nature trail with three dis­tinct ecosys­tems: a prairie, wood­land, and ephemer­al pond wet­land. The trail runs from Eagle Ele­men­tary to the pub­lic library. Illus­trat­ed with col­or pho­tos, the book explains how this trail has become a valu­able out­door classroom—even dur­ing COVID-19—a STEM teach­ing cen­ter, a respite for peo­ple young and old, and a place for com­mu­ni­ty engagement.
One of the ear­ly turn­ing points in the project came in spring 2010 when a few hardy vol­un­teers trekked through the aban­doned lot's thick buck­thorn and oth­er inva­sives and dis­cov­ered some­thing remark­able: a few hardy native pur­ple cone­flow­ers and hoary ver­vain. This proved to be evi­dence of Eagle Prairie, what had once been the largest pre-set­tle­ment prairies in this part of Wis­con­sin. Frog song revealed anoth­er hid­den gem: an almost inac­ces­si­ble ephemer­al pond—a rare wet­land. Mean­while, a few strug­gling wood­land natives pro­vid­ed evi­dence of a small forest.
The for­got­ten wilder­ness wasn't a dead zone after all.
With only a bare-bones bud­get, a group of volunteers—everyone from local fire­men and high school stu­dents, to local busi­ness own­ers and Boy Scouts—came togeth­er to pitch in to clear inva­sives, cut buck­thorn, grade the trail, and plant native prairie, wood­land, and wet­land species.
Hear From the Author, Restor­ing Prairie, Woods, and Pond: How a Small Trail Can Make a Big Dif­fer­ence, Lau­rie Lawlor, orig­i­nal­ly pub­lished in The Prairie Pro­mot­er, a newslet­ter from The Prairie Enthu­si­asts, Vol. 36, No. 1, Spring 2023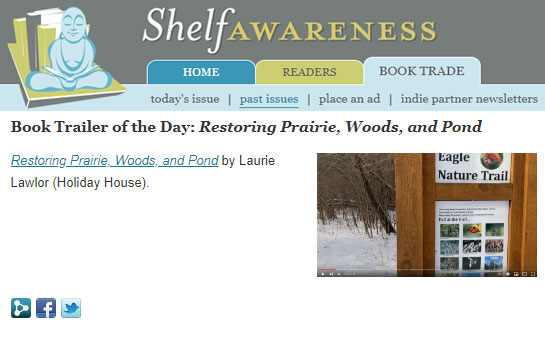 Delight­ed to find the Restor­ing Prairie book trail­er fea­tured in Shelf Aware­ness, Mon­day, April 24, 2023!
Rec­om­mend­ed in "Nature Scoop," Toni Stahl, Habi­tat Ambas­sador, 25 May 2025
"More than a sim­ple account of a wilder­ness restora­tion project. This is activism at its most acces­si­ble: the beau­ti­ful strug­gles of a region and com­mu­ni­ty to make a large dif­fer­ence in a small world. A mag­i­cal and time­ly sto­ry of ecosys­tems restored to their for­mer glo­ry." (Kirkus Reviews, starred review)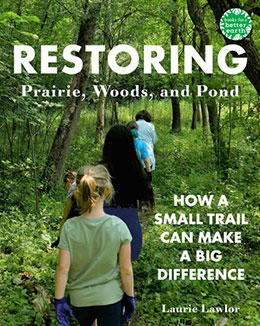 Books for a Bet­ter Earth series
writ­ten by Lau­rie Lawlor
Hol­i­day House, April 2023