Six Scientists Who Changed the World
Pro­files of six amaz­ing women who defied prej­u­dice to suc­ceed in the sci­ences using genius, ambi­tion, and per­se­ver­ance! Lau­rie Lawlor deft­ly paints por­traits of each of these pio­neers who refused to take no for an answer, pur­su­ing their pas­sions through field­work, obser­va­tions, lab­o­ra­to­ries and research ves­sels in the face of sex­ism. Lawlor tells the sto­ries of:
Euge­nie Clark, an ichthy­ol­o­gist who swam with sharks;
Marie Tharp, a car­tog­ra­ph­er who mapped the ocean floor;
Kather­ine Cole­man John­son, a math­e­mati­cian who cal­cu­lat­ed tra­jec­to­ries for NASA flights (fea­tured in the film Hid­den Fig­ures);
Flo­rence Haw­ley Ellis, an anthro­pol­o­gist of Pueblo cul­tures who pio­neered tree-ring dating;
Gertrude Elion, a phar­ma­col­o­gist who devel­oped treat­ments for leukemia and AIDS; and
Mar­garet Bur­bidge, an astro­physi­cist who for­mu­lat­ed a the­o­ry of quasars.
Nation­al Coun­cil for the Social Stud­ies and Chil­dren's Book Coun­cil Excep­tion­al Books 2018
Super Women Dis­cus­sion and Activ­i­ty Guide
Super Women Match Data Answers
Super Women Word Search Answers
"Book Q&As with Deb­o­rah Kalb," Deb­o­rah Kalb Books, 13 Aug 2017
"Super Women-Six Sci­en­tists Who Changed the World," Sue Heav­en­rich, Archimedes Note­book, 6 Oct 2017
"Well-Behaved and Not So Much: Sto­ries of Girls and Women Who Changed His­to­ry," Olugbe­miso­la Rhu­day-Perkovich, Bright­ly, 2017 (updat­ed 2021)
K‑12 Resources from the Lam­ont-Doher­ty Earth Obser­va­to­ry, Earth Insti­tute, Colum­bia University
"Lawlor paints pow­er­ful por­tray­als of those who over­came bar­ri­ers and refused to be labeled as quit­ters, forc­ing them to find cre­ative ways to suc­ceed in their careers." (Book­list, starred review)
"Author Lau­rie Lawlor details the route that each woman took to make their incred­i­ble con­tri­bu­tion to science—in drug research, zool­o­gy, research math­e­mat­ics, astron­o­my, archae­ol­o­gy, and car­tog­ra­phy. Quotes from the women, archival pho­tos, and oth­er back­ground infor­ma­tion bring their careers and per­son­al­i­ties to life for read­ers. Back mat­ter includes a glos­sary, source notes, index, and pho­to cred­its. A wel­come addi­tion to biogra­phies of famous sci­en­tists." (Suzanne Cost­ner, Fairview Review, full review)
"Inspir­ing pro­files of six 20th-cen­tu­ry trail­blaz­ers. Aside from "Shark Lady" Euge­nie Clark and, thanks to atten­tion inspired by recent his­to­ries and a film, NASA "com­put­er" Kather­ine Cole­man John­son, Lawlor's sub­jects will like­ly be new to young read­ers. All were, as the author puts it, struck by "thun­der­bolts of dis­crim­i­na­tion" for being women and, in the cas­es of Clark (whose moth­er was Japan­ese) and John­son (who was African-Amer­i­can), peo­ple "of col­or." Nev­er­the­less, they per­se­vered, made impor­tant dis­cov­er­ies in their var­ied fields, and, even­tu­al­ly at least, earned sig­nif­i­cant recog­ni­tion. Pho­tos and direct quotes appear but spar­ing­ly in the nar­ra­tives, but read­ers will come away with some sense of each ground­break­er's char­ac­ter and pri­vate life to go with con­cise but lucid expla­na­tions of her con­tri­bu­tions. If some of the obsta­cles they faced seem ridicu­lous to con­tem­po­rary readers—in order to use the Mount Wil­son Obser­va­to­ry in the mid-1950s, for instance, "quasar hunter" Eleanor Mar­garet Bur­bidge had to pose as her hus­band's assis­tant and could not use the din­ing hall or bathroom—even now no one will argue that the play­ing field has lev­eled for women in the sci­ences. A hand­ful of new role mod­els, along with light shed on just who made cer­tain sig­nif­i­cant advances in astron­o­my, archae­ol­o­gy, biol­o­gy, med­i­cine, and plate tec­ton­ics. (bib­li­og­ra­phy) (Col­lec­tive biog­ra­phy, ages 11–15)" (Kirkus Reviews)
"This com­pi­la­tion of short biogra­phies of six pio­neer­ing women sci­en­tists is a wel­come and fas­ci­nat­ing addi­tion to STEM resources. Sev­er­al of these women are less­er known, but some read­ers will rec­og­nize Kather­ine Cole­man John­son, the cen­tral sub­ject of the hit movie Hid­den Fig­ures. All six women over­came great prej­u­dice and bias in sci­en­tif­ic fields such as aero­space, marine biol­o­gy, oceanog­ra­phy, archae­ol­o­gy, astron­o­my, and med­ical research. The biogra­phies are short but thor­ough and illus­trat­ed with black-and-white pho­tographs of the sci­en­tists and their work. … Put this in stu­dents' hands to inspire and encour­age sci­en­tif­ic pur­suits. VERDICT This book hits the right notes—women, biog­ra­phy, and STEM—and does it excel­lent­ly." (School Library Jour­nal)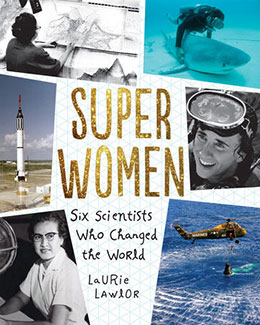 writ­ten by Lau­rie Lawlor
Hol­i­day House, 2017