They were sis­ters, yet strangers; real­is­tic six­teen-year-old Alfre­da Ander­son and fan­ci­ful ten-year-old Erna, divid­ed by hard­ship but unit­ed in the adven­ture of sail­ing to Amer­i­ca. Alfre­da dreamed of new begin­nings, far from the drudgery of life with her aunt and uncle on a small island off the coast of Swe­den, while Erna already missed her home and feared the jour­ney to Chica­go and the father they hadn't seen in years. Papa had sent tick­ets for Moth­er and their sick lit­tle broth­er, Karl, but only the girls would make the journey—on the splen­did new ship Titan­ic.
As the sis­ters became friends, Alfre­da felt they could con­quer what­ev­er chal­lenge they met. Any­thing was possible—until the night of the ice­berg. The night Titan­ic sailed into his­to­ry and the two sis­ters met a des­tiny no one could have foretold…
" … Lawlor's writ­ing prowess and the win­ning the­mat­ic com­bi­na­tion of sis­ter­hood and Amer­i­can his­to­ry ren­der this a series with promise." (Pub­lish­ers Week­ly)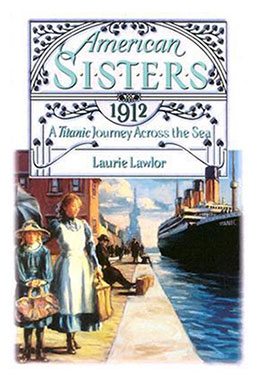 Amer­i­can Sis­ters series, Book 9
writ­ten by Lau­rie Lawlor
Simon & Schuster/Minstrel Books, 1998
Please look for this book at
your favorite pub­lic library
or used bookseller.