Mary Lou and her friends are sure that Leroy, an adult who has the rep­u­ta­tion of hav­ing once been a real­ly bad kid, is hid­ing stolen mon­ey in his back­yard. So they set about find­ing clues. And when they solve the mys­tery they are aston­ished that the worst kid to have lived on Eighth Avenue is … (you'll have to read the book).
Designed for begin­ning read­ers, Worst Kid has large type, sim­ple vocab­u­lary, short chap­ters, and plen­ty of illus­tra­tions for chil­dren who have just learned to read.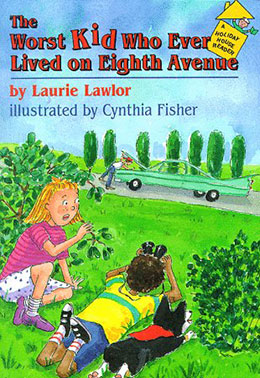 writ­ten by Lau­rie Lawlor
illus­trat­ed by Cyn­thia Fish­er
Hol­i­day House, 1998
Please look for this book at
your favorite pub­lic library
or used bookseller.